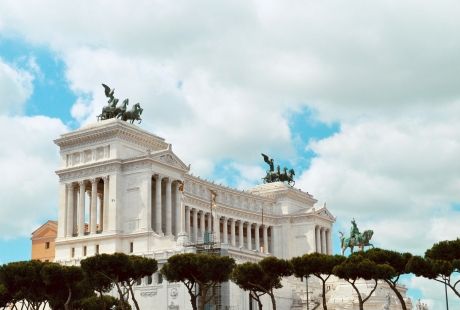 The splendid Piazza Venezia and the Altare della Patria are just a 15-minute walk from the Hotel Raffaello. Located just below the Campidoglio, here crosses Via dei Fori Imperiali, Via del Corso and Via del Plebiscito.
Loved or hated by art lovers, Piazza Venezia is still one of the most evocative monumental locations in the capital: in the center is the Vittoriano, built in honor of Vittorio Emanuele II, and the Altare della Patria with the tomb of the Unknown Soldier, in memory of all the dead soldiers without a proper burial.
Palazzo Venezia also overlooks Piazza Venezia, which was a papal seat and later the seat of the Government of Mussolini.
This is the first example of a Tuscan Renaissance palace in Rome and today remains the site of a museum and the Library of the National Institute of Archeology and History of Art.
Piazza Venezia has always been considered an important political center in Rome and still remains one of the most beautiful squares to visit in the city.
The Hotel Raffaello, located right behind Via Cavour, allows you to easily reach both Piazza Venezia and the Colosseum, the Roman Forum and the other monuments of the Capital on foot.
ENTER THE DATES OF YOUR STAY