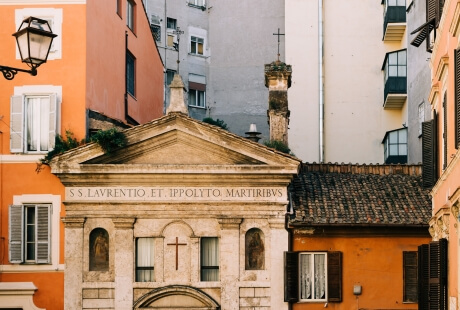 The Hotel Raffaello is located in the Rione Monti in Rome, the oldest in the capital, today a district full of charm and picturesque touches. The name "Monti" depends on the fact that it originally included the Esquiline, Viminal, part of the Quirinale and Celio hills.
Today the Rione Monti conserves the remains of various eras: Roman, medieval, Baroque, Renaissance. The narrow, uphill streets, which run along with the beautiful old and lived buildings, lead along with shops and craft shops, nightclubs and lively cafes.

While in the upper part the district presented splendid noble houses, in the lower part the Rione Monti was defined Suburra (or "inhabited area under the city"), because in Roman times it was a very populated district, and in fact, it is still extremely sparkling and always alive. In addition, it is located near some of the most beautiful monuments of Rome, such as the Colosseum, the Imperial Fora, the Domus Aurea, the Basilica of Santa Maria Maggiore.

Today the popular but very picturesque and evocative atmosphere has given the Rione Monti certain fame, so much that some consider it a second Trastevere.
Because of its location, the Rione Monti is perfect for discovering Rome on foot: this is why the Hotel Raffaello, located in the heart of Rione Monti, is a privileged foothold in the centre of Rome for those who love to visit the city with long walks, enjoying the characteristic atmosphere to the full.
t
ENTER THE DATES OF YOUR STAY